Enhance your garden by creating your own natural water feature. Poolsavers Pond Liners blend in naturally with any environment. The non toxic formula used makes it completely safe to use in outdoor ponds and is suitable for plants and fish. Pond Liners eliminates the use of concrete and are water proof. Available in any size.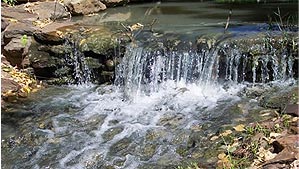 Pond Liners may also be applied to:
Ornamental Lakes
Evaporation Ponds
Aquaculture environs.
Domestic Water Features
Installation in 3 easy steps.
Mark the ground where you want the edge of the water to be. Mark another line 30cm outside the water edge. Measure the length and width of the outer line, add 150cm to both measurements. That gives you the size liner you require.
Dig a hole about 60cm deep to the inside line. Dig a step outside the first hole ot the outer line about 20cm deep. Lay a minimum 1cm sand on base of pond. Lay the liner in the hole and make pleats to allow the liner to lay flat.
Place a rocks, soil and plants over the liner on the step to hold the liner in place. Trim the liner where necessary. To get the full life from the liner you must cover the edge of the liner completely. Then fill the pond.
We also offer Pond Liners as prepared and packaged DIY self-fit items. Our professional team is ready to answer any questions.