Why choose a Maxi pool solar blanket savers
Installation is easy. With care, the end result is an attractive Maxi Solar Blanket which uses the energy of the sun to raise the temperature of the pool water and also conserves the heat and water.
Maxi Solar Blankets Pool Covers can save you money.
Maxi Solar Blankets Pool Covers can cut down water evaporation by up to 97% which also helps your chemicals last longer.
Save up to 70% heat loss from the surface of your pool by creating a barrier between the water surface and outside cool air.
Save electricity. Less running time for solar heating pumps.
Save time cleaning your pool, and save on chemicals
* Always keep the pool water within the recommended Industry standards range to ensure the cover's lifespan and warranty is not compromised.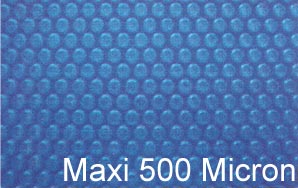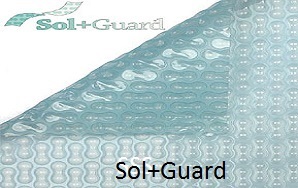 Solar Pool Blanket Maxi EnergyGuard

The Maxi EnergyGuard is a tough durable 500 micron pool cover which has a dark blue top surface and black underside.
It is this combination that gives Maxi EnergyGuard cover the ability to provide a variety of benefits to the end user. This ranges from reducing the personal costs of maintaining a pool and the desire to save natural resources, to the practicalities of reducing electricity and water usage where supply is limited.
The Maxi EnergyGuard cover inhibits algae growth in outdoor and indoor swimming pools, it also stops light from entering the water, therefore stopping photosynthesis and inhibiting algae growth, this can greatly reduce filtration and pump running time by up to 50%, SAVING ON ELECTRICITY COSTS
The Maxi EnergyGuard will eliminate water evaporation by over 98% and also reduce chemical consumption by up to 60%
The Maxi EnergyGuard reduces debris such as leaves, dirt and insects.
The Maxi EnergyGuard has a 6 year pro rata warranty.
What is GeoBubble Technology?
It is a new innovative bubble shape that has been scientifically designed to increase the expected lifespan of swimming pool bubble cover material by up to 25%*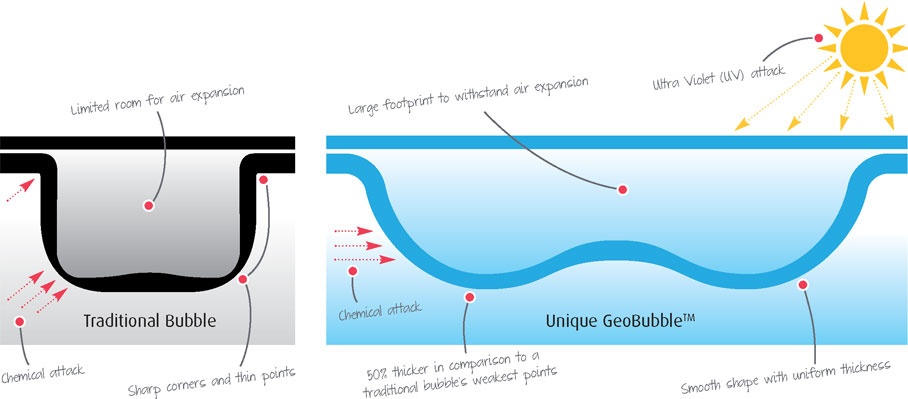 The science behind GeoBubble technology
Swimming pool covers are typically exposed to high levels of Ultra Violet (UV) radiation and chemical attack. GeoBubble is a material designed specifically for this environment, making the cover more resistant to these attacks and enabling a longer lifespan.
To understand the science of GeoBubble, it helps to look at the traditional bubble material used for pool covers. Originally their design was developed and adapted from the packaging industry, which is a high-volume, low-quality packaging bubble material with a short lifespan. Because of this, traditional bubbles have several inherent weaknesses in their design, including thin points and high residual stress areas. Thin points in a bubble design create weak points which are quickly broken down by UV rays and chemical attack. The degradation process is accelerated in areas of high stress as these areas are under constant strain. This results in the bubble material breaking down and will ultimately cause the premature failure of the pool cover. This is because of the inherent weakness within the bubble design produced by stress created in the material during manufacture. The angular profile of the traditional bubble design mould forces the material to move against the polymers natural flow characteristics applying stress which results in a thinning of the material and areas of high residual stress.
The GeoBubble has been designed to elevate these stresses during the moulding of the bubble profile. The geometric bubble allows the material to be formed without fighting the polymers rheological properties resulting in a material with a more uniform thickness, minimising the residual stress within the polymer structure. What makes GeoBubble materials unique?
The features and benefits of a GeoBubble product include:
Unique patented design of two bubbles joined together by a structural waistline centre section
No sharp corners that could result in thin or weak points in the design
No stress points due to the bubble's smooth interconnected curves
50% thicker than a traditional bubble material
Increased resilience against UV rays and chemical attack
Why does the GeoBubble shape have a large Surface area?
The GeoBubble design has a much larger surface area than most traditional bubble materials to allow for expansion of air within the bubble shape. The stiff waistline section ensures the bubble is strong enough to hold expanding air and will not stretch or burst under increased pressure. The large footprint also acts as an insulator, so the heat generated is also retained in the pool water. Furthermore, it helps the cover stick to or grip the water so it cannot be blown off the pool or lift in high winds, something that can lead to abrasive damage to the cover.
Maxiweave Blue
Our standard product comes in 2m and 2.5m lengths with a dark blue material laminated to a blue woven film.
Features and benefits of Maxi weave Blue
Stronger, more durable material
With GeoBubble technology
Heat Retention
Reduces water evaporation by 98%+
Reduces energy consumption
Reduces chemical consumption
Reduces debris
Maxiweave Clear Top
Our standard product comes in 2m lengths with a light blue material laminated to a clear woven film to allow for solar heat gain.
Features and benefits of Maxiweave Clear Top
Stronger more durable material
With GeoBubble Technology
Gain and retain heat
Reduce water evaporation by 98%+
Reduce energy consumption by up to 50%
Reduce chemical consumption by up to 50%
Reduce debris