HURLCON RTX ROBOTIC POOL CLEANER
Environmentally friendly, the Astralpool RTX Robotic Cleaner cleans and scrubs almost any size and shape residential pool. Utilising the latest pool mapping and positioning technology (Gyro) and combined with the unique aquasmart software, the Astralpool RTX robot cleans the average size swimming pool in as little as 1.5 hours and costs as little as 8 cents to run. With a fully programmable power supply you can select the cleaning cycle best needed, set the delay function to allow the unit to come on only when cleaning is required and with a built in sensor the unit can even tell you when the Debris Canisters need emptying. Supplied with a Caddy to allow for easy movement and storage the RTX Robotic Cleaner covers all bases.
Features & Benefits:
Premium Aquasmart Mapping Software
Latest Gyroscope Technology
Uses 80% less power than suction or pressure cleaners
Reduces water and chemical loss
Silent Operation
Filters down to 2 microns
Cleans floors and walls of average pool in 11⁄2 hours
Programmable power supply with three cleaning options
Canister debris full warning Delay run feature
Convenient Caddy for mobility and storage
THE POOL CLEANER
SELF ADJUSTING TURBINE VANES
All the POOLCLEANER™ cleaners have the patented self-adjusting turbines, which maximizes the power from the water flow. This turbine is similar to a paddle wheel with blades that are adjustable. This feature allows the POOLCLEANER™ to still move at low suction and low pressure. In addition the folding vanes of the turbine allow for the easy passage of larger debris through the cleaner.
STEERING SYSTEM
The 2x Suction POOLCLEANER™ has an internal programmed steering system, that causes the left wheel to periodically reverse, allowing the POOLCLEANER™ to turn and then move into another direction. For the 2x Suction POOLCLEANER™ there are five different programmed turns ranging from 90 to 450 degrees. This feature allows the POOLCLEANER™ to cover not only the deep end, but also the shallow end. The POOLCLEANER™ has no problem with uneven surfaces or strange shapes. It won't stick in a corner, or get hung up by a main drain.
ROBUST TIRE TREADS
One look and you will see that the patented tire treads give the POOLCLEANER™ better climbing ability and obstacle maneuverability. The tires come with tread wear markers that show you when to replace your tires. The front tires of the POOLCLEANER™ have humps (raised treads) that allow the POOLCLEANER™ to overcome any reasonable obstacles such as the main drain and uneven surfaces. This makes the POOLCLEANER™ ideal for all pool surfaces and shapes.
ADJUSTABLE SKIRT
The POOLCLEANER™ has patented adjustable skirts that allow the cleaner to maintain optimal suction under the machine even when it encounters obstacles. When the POOLCLEANER™ encounters an obstacle one (or more) of the skirts will lift up (adjust) over the obstacle while maintaining suction under the cleaner.
NEW PENTAIR REBEL POOL CLEANER
JOIN THE TWO-WHEEL REVOLUTION IN THE FIGHT AGAINST HARD-TO-CLEAN DEBRIS
The Rebel cleaner's programmed steering and compact, two wheeled design moves Rebel decisively throughout your pool. It maneuvers from deep to shallow bottoms up 90 degree floor-to-wall angles all the way to the waterline and into tight spaces that other cleaners miss.
The Rebel cleaner's extra efficient hydraulic design makes it ideal for use with variable speed pumps at lower speeds. Installation is a snap-just set it and forget it, and with a sleek, modern design the Rebel cleaner is a complement to any pool environment
PRODUCT FEATURES
Programmed steering assures complete thorough pool cleaning coverage.
Super efficient design makes ideal for use with variable speed pumps at lower speeds.
Superior turbine design provides clear passage for vacuumed dirt and debris avoiding the clogging that is common with other 2 wheel cleaners.
Effortlessly cleans tight corners and pools with 90 degrees angles
Cleans to the tile line
A cinch to install and maintain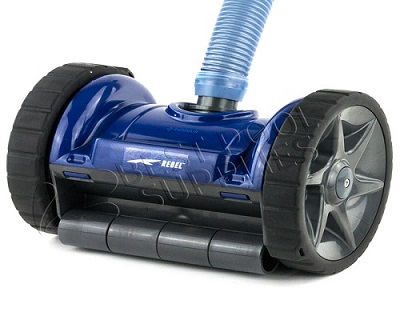 ONGA HUMMER HEAD POOLCLEANER
Then we added performance features to make Hammer Head relentless in its pursuit of dirt and debris, while keeping it affordable and sensationally dependable.
Hammer Head features a new, patented silent flapper design. This sole operational moving part creates the kinetic energy that powers Hammer Head around your pool. Elegantly simple and highly reliable, this dependable design has been proven in more than 2 million pools worldwide.
Supremely simple and relentless in the pursuit of dirt and debris
The Hammer Head™ pool cleaner is the ultimate in carefree operation. It comes fully assembled. Just add the seal and connect the hoses. No tools required and you're on cruise control in minutes. It even comes with a free fl ow gauge and adjustable speed control to ensure optimum performance. Also consider these other hands-free and reliability features:
No bags or compartments to empty or replace, dirt and debris go right to your filtration equipment, where they belong.
No wheels or gears to jam or diaphragms to replace
No expensive booster pump to buy and operate…it uses your pool's existing filtration system.
Only one operational moving part…only 8 parts in total.
All parts are UV stable and chemical resistant for years of dependable service.
Sleek, compact design increases manoeuvrability for best cleaning performance.
Backed by the largest pool equipment company in the world.
Three-year limited warranty.
Includes 10 x 1m hose lengths.
Bolero ND Suction Cleaner
Scrubs and vacuums pool floor and walls
Automatic flow-control valves are simple to operate and install
Energy efficient rated; runs off your existing pool pump
Quiet, efficient diaphragm design allows for quick clean up of all types of pools
Simple to install and suitable for low, medium and high flow rates in residential pools, the Bolero ND Suction Cleaner minimizes the time you spend maintaining your swimming pool.
The Bolero ND is a robust and reliable system designed to clean almost any shape and pool surface. Engineered materials designed for harsh environments and submersion in pool water mean long life and durability.
The action of the diaphragm (the only part that moves), means the cleaner scrubs as well as vacuums the pool floor and wall. The quality hose and fittings make installation simple.
Bolero's flow control valve is simple to operate and adjusts to suit all types of installations. The flow meter supplied with every unit enables the perfect flow rate to be set on your swimming pool.
Suitable for flow rates between 150 LPM (40 GPM) to more than 300 LPM (80 GPM), Bolero is one of the most flexible and quiet cleaners available today.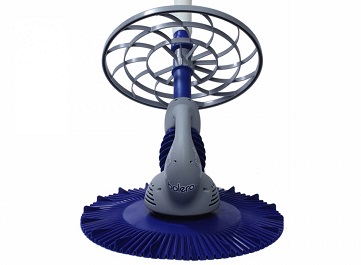 DAVEY POOL SWEEPA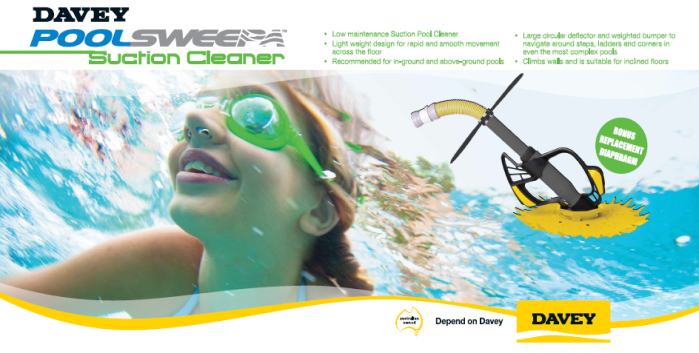 WHY CHOOSE THE Davey PoolSweepa® Suction Cleaner?
The Davey PoolSweepa® Suction Cleaner is easy to connect through a skimmer box or dedicated suction line of an inground or above-ground pool.
It's light weight design combined with a high performance spiral wound vacuum hose, enables it to move and clean rapidly across pool floors and walls.
The diaphragm system ensures very silent operation, easy passage of debris and low maintenance owing to just one moving part.
APPLICATIONS
Ideal for:
In-Ground Pools
Above Ground Pools
Plunge Pools
Features:
Twist and lock design provides quick and easy access to change the diaphragm
Integrated handle facilitates carrying and lifting from the pool
Diaphragm design ensures quiet and efficient cleaning with simple maintenance
Finned skirt for easy climbing over steps, main drains, lights and obstacles
10.4 metres of high performance spiral wound vacuum hose reinforced with glass fibre for extra durability
Large circular deflector and weighted bumper to navigate around steps, ladders, and corners in even the most complex pools
Climbs walls and is suitable for inclined floors
Light weight design for rapid and smooth movement across the pool floor and walls
Suitable for concrete, fibreglass and vinyl lined pools
Note: This suction cleaner is not suitable for soft wall or inflatable pools