QB800 Robotic Pool Cleaner
COMBINED INTEGRATED AGILITY WITH INTELLIGENCE
The new QB800 features new patented Helix shaped brush and compact body, thus offering integrated agility. Featuring dual stage filtration (150μ/60μ) that is capable of picking up small and large debris, the QB800 is designed to run in all types of pools. With the patented Elevate/Lift System™ and unique design, the QB800 is capable of expelling water very quickly making it very easy to operate and remove from the water. QB800 has superior ability to detect walls without the need for tilting, making it very efficient in covering the pool.
Features
INTEGRATED AGILITY
With its embedded smart sensors and its unique design, QB800 offers excellent coverage of the pool and limitless agility. It is, therefore, ideal for all pool shapes and linings.
DUAL STAGE FILTRATION (150μ/60μ)
Capture large and small debris with great efficiency. The dual filters ensure all debris is picked up no matter how large or how small, keeping your pool clean. The 150μ filter can also be used on its own.
PATENTED CYCLONIC SUCTION
QB800 features patented cyclonic suction that is powerful and long-lasting. Debris is kept in suspension to avoid filter clogging and to maintain the same level of cleaning performance throughout the cycle.
PATENTED ELEVATE/LIFT SYSTEM
QB800 robotic cleaner positions itself on the chosen wall and climbs right up to the water line. Once the robot is removed from the water, it expels water very quickly making is lightweight and effortless. This means that you can remove the robot from
the water with 15% less effort.
SWIVEL + CADDY
Reduce the chances of cable tangling. Automatic swivel system prevents cable tangling during cleaner operation in the pool. The cleaner efficiency is optimized and the cable storage is easier. QB800 robotic pool cleaner is equipped with a swivel. Also for everyday ease of use the cleaner comes with a transport and storage caddy.
Specs
| Model No. | QB800 Robotic Pool Cleaner |
| --- | --- |
| Equipment | |
| Pool surfaces | Concrete, pebblecrete, quartzon, fibreglass, vinyl and tiles. |
| Packaging gross weight | 19kg |
| Cleaner weight | 9.5kg |
| Pool shapes | Rectangular, oval, free shape, flat, gentle slope, composite slope, diamond shape |
| Cleaning areas | Floors, walls and waterline |
| Filter capacity | 4L |
| Number of motors | 3 |
| Control box supply | 200-240 VAC / 50Hz / 60Hz |
| Power supply / operating power | 30V DC / 150W |
| Cleaner dimensions | 43 cm x 48 cm x 27 cm (L x W x H) |
| Filtration level | Dual stage filtration with 150μ/60μ filter canister |
| Pool sizes | Up to 10m x 5m (15m cable) |
THE POOL CLEANER
SELF ADJUSTING TURBINE VANES
All the POOLCLEANER™ cleaners have the patented self-adjusting turbines, which maximizes the power from the water flow. This turbine is similar to a paddle wheel with blades that are adjustable. This feature allows the POOLCLEANER™ to still move at low suction and low pressure. In addition the folding vanes of the turbine allow for the easy passage of larger debris through the cleaner.
STEERING SYSTEM
The 2x Suction POOLCLEANER™ has an internal programmed steering system, that causes the left wheel to periodically reverse, allowing the POOLCLEANER™ to turn and then move into another direction. For the 2x Suction POOLCLEANER™ there are five different programmed turns ranging from 90 to 450 degrees. This feature allows the POOLCLEANER™ to cover not only the deep end, but also the shallow end. The POOLCLEANER™ has no problem with uneven surfaces or strange shapes. It won't stick in a corner, or get hung up by a main drain.
ROBUST TIRE TREADS
One look and you will see that the patented tire treads give the POOLCLEANER™ better climbing ability and obstacle maneuverability. The tires come with tread wear markers that show you when to replace your tires. The front tires of the POOLCLEANER™ have humps (raised treads) that allow the POOLCLEANER™ to overcome any reasonable obstacles such as the main drain and uneven surfaces. This makes the POOLCLEANER™ ideal for all pool surfaces and shapes.
ADJUSTABLE SKIRT
The POOLCLEANER™ has patented adjustable skirts that allow the cleaner to maintain optimal suction under the machine even when it encounters obstacles. When the POOLCLEANER™ encounters an obstacle one (or more) of the skirts will lift up (adjust) over the obstacle while maintaining suction under the cleaner.
NEW PENTAIR REBEL POOL CLEANER
JOIN THE TWO-WHEEL REVOLUTION IN THE FIGHT AGAINST HARD-TO-CLEAN DEBRIS
The Rebel cleaner's programmed steering and compact, two wheeled design moves Rebel decisively throughout your pool. It maneuvers from deep to shallow bottoms up 90 degree floor-to-wall angles all the way to the waterline and into tight spaces that other cleaners miss.
The Rebel cleaner's extra efficient hydraulic design makes it ideal for use with variable speed pumps at lower speeds. Installation is a snap-just set it and forget it, and with a sleek, modern design the Rebel cleaner is a complement to any pool environment
PRODUCT FEATURES
Programmed steering assures complete thorough pool cleaning coverage.
Super efficient design makes ideal for use with variable speed pumps at lower speeds.
Superior turbine design provides clear passage for vacuumed dirt and debris avoiding the clogging that is common with other 2 wheel cleaners.
Effortlessly cleans tight corners and pools with 90 degrees angles
Cleans to the tile line
A cinch to install and maintain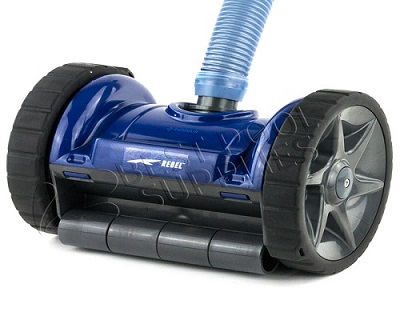 MAKOSHARKTM
THE ALL-IN-ONE POOL CLEANER
Relentless in the pursuit of dirt and debris
The MakoSharkTM pool cleaner shares many of the design features of the most popular automatic suction side vacuum in history.
Then we added performance features to make MakoShark relentless in its pursuit of dirt and debris, while keeping it affordable and sensationally dependable.
MakoShark features a new, patented silent fl apper design. This sole operational moving part creates the kinetic energy that powers MakoShark around your pool. Elegantly simple and highly reliable, this dependable design has been proven in more than 2 million pools worldwide.
Supremely simple and ultimately reliable
The MakoSharkTM pool cleaner is the ultimate in carefree operation. It comes fully assembled. Just add the seal and connect the hoses. No tools required and you're on cruise control in minutes. It even comes with a free fl ow gauge and adjustable speed control to ensure optimum performance.Also consider these other hands-free and reliability features:
No bags or compartments to empty or replace, dirt and debris go right to your fi ltration equipment, where they belong.
No wheels or gears to jam or diaphragms to replace
No expensive booster pump to buy and operate…it uses your pool's existing fi ltration system.
Only one operational moving part.
All parts are UV stable and chemical resistant for years of dependable service.
Sleek, compact design increases maneuverability for best cleaning performance.
Backed by the largest pool equipment company in the world.
Three-year limited warranty. See warranty for details.
Bolero ND Suction Cleaner
Scrubs and vacuums pool floor and walls
Automatic flow-control valves are simple to operate and install
Energy efficient rated; runs off your existing pool pump
Quiet, efficient diaphragm design allows for quick clean up of all types of pools
Simple to install and suitable for low, medium and high flow rates in residential pools, the Bolero ND Suction Cleaner minimizes the time you spend maintaining your swimming pool.
The Bolero ND is a robust and reliable system designed to clean almost any shape and pool surface. Engineered materials designed for harsh environments and submersion in pool water mean long life and durability.
The action of the diaphragm (the only part that moves), means the cleaner scrubs as well as vacuums the pool floor and wall. The quality hose and fittings make installation simple.
Bolero's flow control valve is simple to operate and adjusts to suit all types of installations. The flow meter supplied with every unit enables the perfect flow rate to be set on your swimming pool.
Suitable for flow rates between 150 LPM (40 GPM) to more than 300 LPM (80 GPM), Bolero is one of the most flexible and quiet cleaners available today.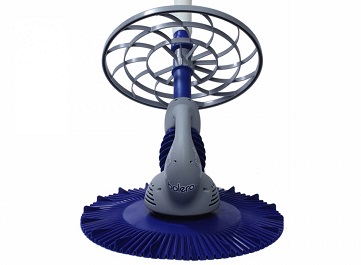 Zodiac AX10 Activ
Exclusive active cyclonic scrubbing brushes provide the ultimate deep cleaning experience. The active scrubbing removes algae and fine particles which other suction cleaners in its class leave behind.
Designed to take on the toughest pools, the Zodiac AX10 Activ uses Max-Drive Navigation 360° with dual drive assembly to deliver efficient cleaning making stuck on debris a thing of the past.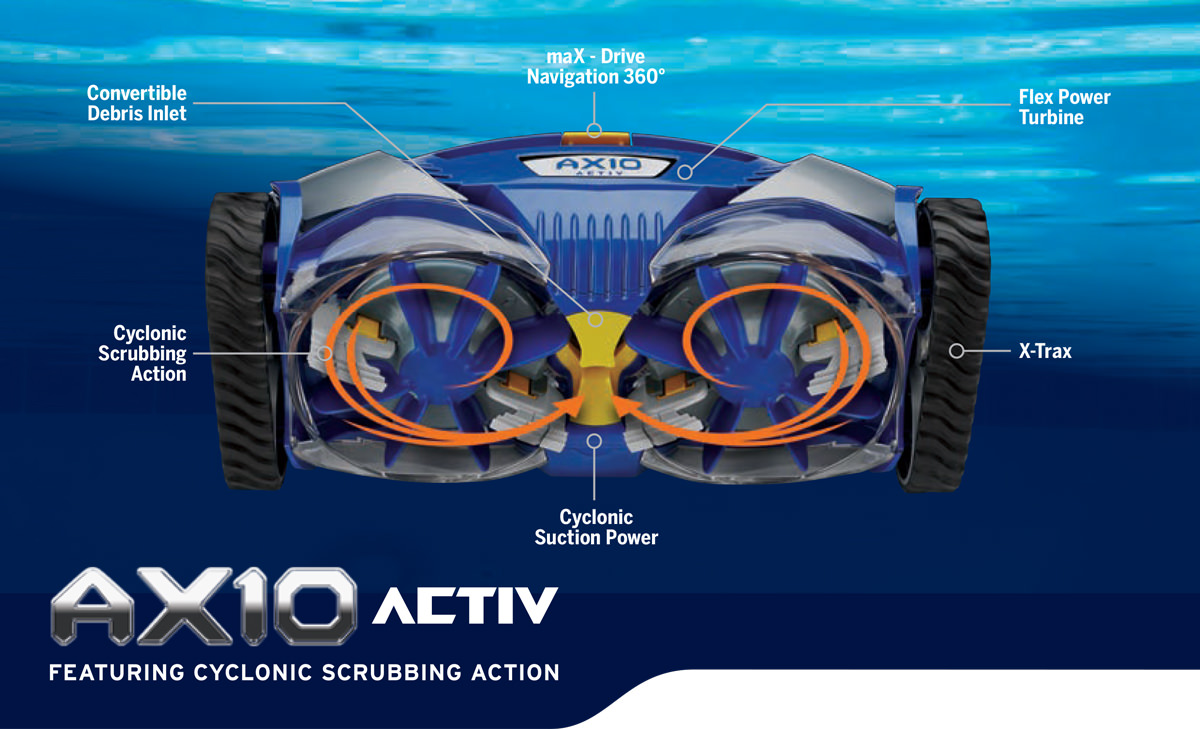 Key Product Features & Benefits
Cyclonic Scrubbing Action
A deeper clean with dual scrubbers. Cyclonic scrubbing action tackles fine, stuck – on debris. Removable scrubbing brushes can be easily replaced when worn.
Cyclonic Vacuum Technology
Cyclonic vacuum technology ensures that the AX10 Activ captures maximum debris whilst maintaining maximum cleaning power. Cyclonic suction also allows for a wider cleaning path ensuring both large and small debris are consumed with ease.
maX – Drive Navigation 360°
Maximum pool coverage thanks to 360° navigation dual drive assembly and wide cleaning path of 35cm.
Flex Power Turbine
The ultra efficient flex power turbine is at the heart of the AX10 Activ. It provides maximum torque while operating at low flow, ensuring the pool system is not burdened.
Convertible Debris Inlet
The AX10 Activ comes with an adjustable inlet opening depending on whether to capture small or large debris up to 4cm in diameter.
Product Specifications
Mechanical Suction Pool Cleaner
Suitable for most in-ground pools up to 12m X 6m (Depending on location of skimmer box).
Suitable for concrete, pebblecrete, quartzon, tile, fibreglass, vinyl surfaces
Cleans floor and walls
Best suited for small and medium debris. Not suitable for long leaves i.e. palm leaves
Packaging Content
1 x Zodiac AX10 Activ head
12 x Zodiac long life Twist & Lock hose section 1 x AD flow valve
1 x universal weir cuff
1 x hose float
1 x Flow Regulator Valve
1 x 90 degree elbow
1 x quick start guide
1 x warranty card
Optional Accessory
Zodiac Leaf Catcher. Perfect accessory for heavy leaf litter. Captures leaves and other debris before they reach the skimmer, pump, or filter.
Zodiac lives in the backyards of Australian families, at home in the pool. Zodiac began and continues with a dedication to innovation and new product development, focused on ensuring a better way of life. Our products deliver solutions to take the hassle out of owning a pool. So, all that's left is for you to enjoy it; to enjoy a better life.