EnergyGuard™ Selective Transmission GeoBubble™
An award-winning solution to increase solar gains and inhibit algae
Award-winning material
Increase water temperature by up to 7°C
Inhibit algae growth
Reduce energy consumption by up to 60%
Reduce chemical consumption by up to 60%
Reduce filtration time by up to 50%
Can be used as winter cover material
Eliminates water evaporation by 98%+
Reduce debris contamination
Save money and reduce the carbon footprint of your pool
6 year+ expected lifespan
With GeoBubble™ technology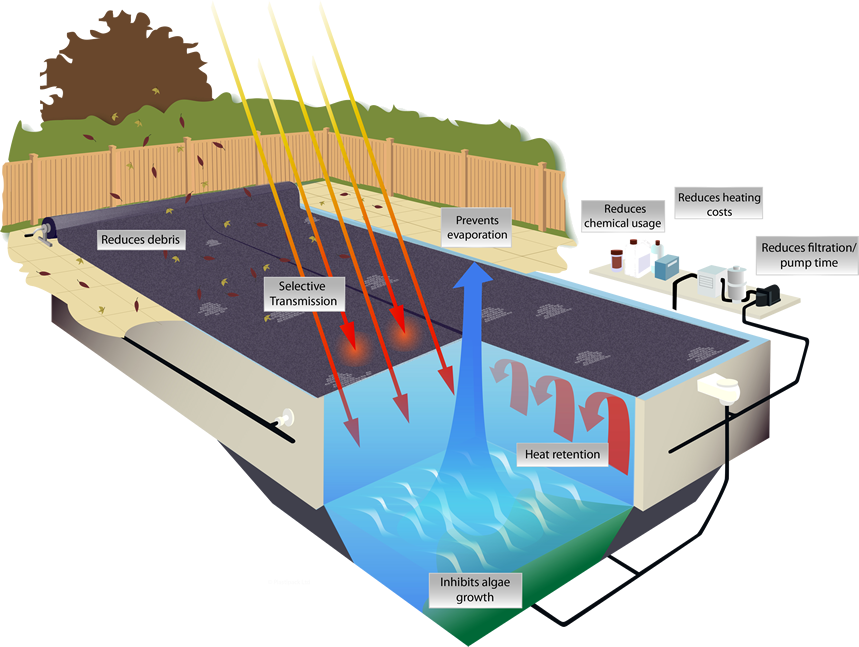 What is GeoBubbleTM Technology?
2020-03-10T23:06:03+00:00
GeoBubble™ technology is a patented bubble design for an optimised pool cover material scientifically designed to increase the expected lifespan of the material by up to 25% and provides the longest possible life span for your pool cover, ensuring the preservation of water resources while reducing the energy and chemicals consumed to maintain your pool.
Expected lifespan increased by 25%+
Designed specifically for the harsh swimming pool environment
Developed in collaboration with two UK universities
Save money, time and reduce the carbon footprint of your pool
Available in a variety of standard and high-performance materials
Unique GeoBubble™ design
GeoBubble™ is an innovative pool cover material using a bubble profile that has been scientifically designed to increase the expected lifespan of the swimming pool cover material by 25%+.
Traditional Bubble Design:
Developed and adapted from high-volume, low quality bubble material with a short lifespan
Thin points and high residual stress areas, creating weak points quickly broken down by UV rays and chemical attack
GeoBubble™'s unique features & benefits:
Unique patented design of two bubbles joined together by a structural waistline centre section
No sharp corners that could resist in thin or weak points in the design
No stress points due to the bubble's smooth interconnected curves
50% thicker than a traditional bubble material at its thinner point
Increased resilience against UV rays and chemical attack
What our clients say about EnergyGuard™ Selective Transmission GeoBubble™
2020-03-10T23:17:11+00:00
After using the cover the algae was dead within a week or two
Very impressed with my Eneryguard ST pool cover. I have a natural, unheated swimming pool. Water is circulated through bio filter to keep it clean without chemicals, but clearing the algae after its winter shutdown can be a problem. (Think pea soup!) However, after using the cover the algae was dead within a week or two and vacuumed out of the pool with ease. It has even killed off the biofilm which makes the walls of natural pools quite slick, so I'm delighted, and the pool water is sparkling clear in record time.
It's early days for assessing heating, but the pool temperature has risen about 6 degrees in a week, now the sun has come back, so I have high hopes.
Aesthetically, the dark blue colour actually blends in very well and is far less noticeable than I thought, even in a natural setting with pool vegetation.
In summary, an excellent product. Controls algae in the most challenging of circumstances!
Elaine Roberts
Pool water was absolutely crystal clear
"As someone who has been in the pool industry for many years I am always seeing new products making great claims as to how good they are so it was some doubt in my mind that I tried the black EnergyGuard™ GeoBubble™ pool cover on my own pool. I put it on in September and did not put any winterising chemicals at all in the pool. When I drew the cover back in May I was delighted and, I have to admit, quite surprised to see that the pool water was absolutely crystal clear. Just as I had left it 7 months ago. All the pool needed was one visit from my pool cleaner and it was ready to swim in. I am highly delighted with the algae restricting performance of the EnergyGuard™ cover, not only did it give me a crystal clear pool it also saved me spending money on winterising chemicals. For the first time in 20 years I did not have to do any Spring clean up in my pool."
Peter Joyce, MD of Pool Store Ltd