Pools and spas can be a source of great enjoyment and relaxation. But, if you don't have the right pumping and filtration equipment, you're more likely to experience anger and frustration than relaxation.
Poolsavers stocks a range of pumps and filters that you can depend on to get the very best from your pool or spa giving you sparkling clean water with a minimum of fuss.
Maxiclear Sand Filter
With a bobbin wound fibreglass tank this very robust 25″ Sand filter suits pools from 40,000lts to 65,000lts. With a 10 Year tank warranty and 1 year warranty on valve this filter will give you years of efficient pool filtering for a great value packed price.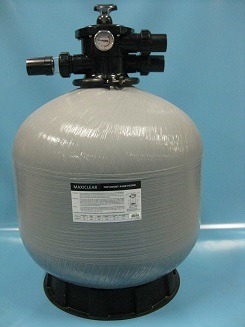 Onga Sand Filter
The performance proven Leisure Time sand filter is quality engineered to provide clear, sparkling pool water with minimal maintenance. Manufactured in Australia, the Onga® Leisure Time sand filter is made from UV stabilized high density polyethylene. The Leisure Time Sand Filter range is available in 2 sizes: 20 inch and 24 inch
Typical Applications
Principally used for domestic swimming pool filtration or aquaculture
Under-drain filter clamp
Durable seals and gaskets
6 Position Multi-port Valve
Barrel union pipe connections
Large in-line sight-glass
Glycerine filled Pressure Gauge
2 Years Manufacturer Warranty
Cartridge Filters
You can depend on Cartridge filters for a more economical system as they do not require backwash valves.
They have pleated elements similar in design to a car oil filter. Dirty water passes through the element and dirt particles are caught in the pleats, allowing clean water to return to the pool.
The cartridge filter element is easily cleaned by taking it out of the filter tank and hosing out the pleats.
DAVEY EASY CLEAR CF750 CARTRIDGE FILTER
The Easy Clear range of cartridge filters has been specifically designed for the filtration of water in inground and above ground swimming pools and spa pools.The Easy Clear range is ideal for: Domestic swimming pools, Spa pools, Water features and Aquaculture applications
FEATURES & BENEFITS
The filter element is constructed of Du Pont Reemay which is recognised for its excellent filtration and long life.
Low profile design means elements are easier to lift out for cleaning and require less height for installation.
A.B.S tank construction is robust, UV and corrosion resistant for a long and reliable working life.
An automatic air bleed prevents air from building up in the tank while the pump is running.
A manual air bleed valve enables the filter to be de-pressurised before opening for quick safe cleaning.
A choice of two inlet ports enables the plumbing to be installed at either 90 or 180 degrees to the outlet for greater
flexibility in installation.
An automatic tank bypass valve prevents internal pressure exceeding safe levels
The ultimate in reliability the Speck 90/500 Dual Speed is the 6 star rated energy efficient pump for all domestic pools, and pool and spa heating applications.
Speck Super 90/500 2 – speed – 0.75 HP Input Low, 2.0 HP Input High, 500 LPM (6 Star Rating)
FEATURES
2 operating speeds
A high resistance to corrosion and salt water
Self-priming
Stability at high fluid temperatures – up to 60°C
No contact between motor and pump shaft with pool or spa water
Quality mechanical seal
Fan cooled – suitable for high ambient temperatures
Closed impeller
Stainless steel motor shaft
Easy to remove clear strainer lid
Every pump wet tested for quality control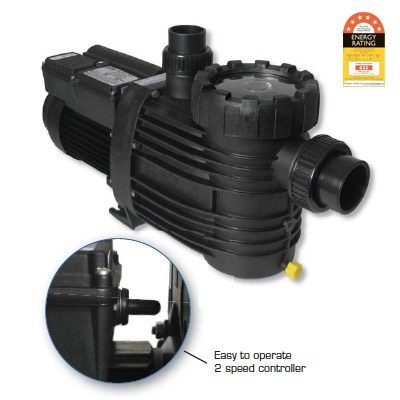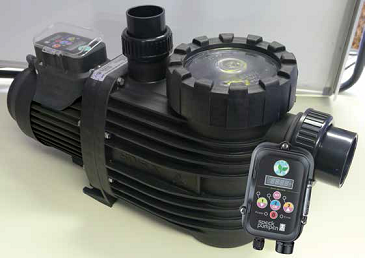 SPECK® BADU® Eco Touch VS Litres per Minute Height in Metres
The new BADU Eco Touch VS pump is cutting edge motor technology, which is revolutionising energy efficiency by lowering power consumption and operating costs, while increasing water quality in pools and spas.
Thanks to its 8 Star energy rating, the highly efficient BADU Eco Touch VS is setting the standard compared with a conventional induction motor pump. The operating costs and the CO2 emissions are significantly lower in comparison with a standard pump meaning the pump pays for itself in less than two years!
Patented permanent magnet motor, with axil rotor, referred to as EC Motor, perfected for use in swimming pools and spa filter systems
For pool and spas from 30m3 to 70m3
Speed 1 (low) for night time operation
Improved speed control at Speed 2 (medium) delivers improved water quality
Speed 3 (high) for filter backwashing
Pre-set stages always provide optimal performance for power savings
Simple and brilliant – the lower the motor speed the lower the energy consumption
Settings can be selected using a user-friendly control panel
Separate interface to allow for external touch free control
Designed for quiet operation
dBa ratings at 1m 52.5dB
Stainless steel shaft and 100% recyclable plastics for corrosion and salt water resistance
Motor double sealed for total separation between the pool water and pump shaft
Suitable for pools with a maximum salt level of 5,000 ppm
Eco Touch VS
Head Max/Min – m
15/1
Inlet Connection – mm
50
Outlet Connection – mm
40
RPM Max/Min
2850/1000
Poolrite Pool Pumps (Enduro 750 (1.hp)Enduro 930 (1.25hp) Enduro 1100 (1.5hp)
Low noise operation
Low running cost
Stainless steel shaft
Weatherproof motor with thermal overload protection
Quick-connect union adaptors
Two years full warranty
These economical pumps are well suited for in-ground or above-ground swimming pools, spas and solar systems.
Low noise running achieved with precisely matched pump motor design. Stainless steel assembly nuts and bolts. High flow and pressure capabilities mean efficient filtration and vacuum cleaning. Electrically double-insulated and in-built automatic thermal overload device for extra safety. Easy installation and service thanks to threaded inlet, self-aligning unions and a discharge port that can be easily positioned at top or side to accommodate different piping configurations.
The strainer pot model features a large see-through lid, robust strainer basket and proven self priming capability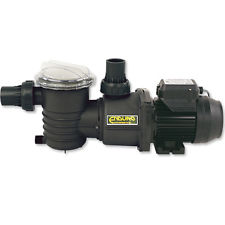 Onga Leisure Time Pool Pumps
400 watt(1/2hp) 550watt (3/4hp) 750watt (1.00hp) 1100watt (1.5hp)
Davey Pool Pumps
SLS Water Cool with Hair & Lint Pot
SLS100 3/4hp, SLS150 1.0hp, SLS200 1.1/4hp, SLS300 1.1/2hp
Super-Quiet – Designed with a unique water-cooled motor which captures noise and vibrations, allowing super-quiet operation rated at 55 dBa. Your neighbours won't even know it's there.
Long Lasting – Silensor is designed for long service life in an outdoor, poolside environment and replaces highly corrodible metal components with high performance, long-life plastics for low maintenance and dependable service – year after year. Dependable – Silensor incorporates unique dry run protection to minimise pump damage if no water is available to the pump. It also includes a unique mechanical seal protection for long service life and reduced maintenance.
Convenient – By water-cooling the motor, Silensor does not require air ventilation, and gives installers more flexibility with pump positioning.
SLS models are an ideal replacement for many other pool pump models and are designed to retrofit with minimal hassle.
APPLICATIONS
Ideal for most swimming pool applications such as:
Filtration
Auto pool cleaning
Backwashing
Water features
Spa jet operation
Solar pool heating
ZODIAC AQUAMITE POOL PUMPS 750watt & 1100watt
Pool Volume – 36,000 – 48,000 litres. 1 HP / 750 watts. 3.3 amps.
It's efficient hydraulic performance shortens run times and reduces energy consumption leading to lower operating costs.Engineered DurabilityThe pump body is manufactured utilising state of the art engineering plastic moulding with a single piece strainer pot and volute for extra strength. A high grade 316 stainless steel mechanical seal is incorporated for extra protection against corrosion. e.g. from chlorinated water, ozone, iodine, Baquacil, bromine and salt water.
Features include:
Clear basket lid.
Quick connect barrel unions for UPVC pipe.
High grade carbon/graphite mechanical seal with316 stainless steel spring assembly.
High performance motor:• IP44 rating• Motor shaft 303 grade stainless steel.• Fan cooled.• Thermal overload protection
Stable support base.
Secondary Seal – For extra protection of the pump motor.
Secondary seal drain pipe.
Hydraulically efficient impeller and diffuser design.
Drain plugs.
Strong single piece glass filled thermoplastic pump body.
Strainer basket – capture debris and protects the pumps impeller.