AQUAQUIP LED RETRO FIT POOL LIGHT
MULTI COLOUR
From the most simple to the extra-ordinary, lighting is very often the most eye-catching aspect of your pool and spa.
The name Aqua-Quip is synonymous with award winning pool builders, aiding with the design challenges to best fulfil customers' lighting expectations for that special evening atmosphere.
QC Series – LED Surface Mounted Pool Lights
Features
Quick-connect feature
Amazing LED colours
Variable voltage technology
Energy efficient
Universal mounting bracket
Stylish Design Ring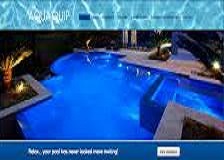 SPA ELECTRICS RETRO FIT POOL LIGHT
TRI COLOUR (BLUE GREEN & WHITE)
The simple Lighting upgrade for your pool.
The increased output & superior spread of light from the ceramic
Light engine reduces shadowing & increases night-time visibility.
Advanced LED technology, patented cable connection &IPX8 (wateringress protection)means the Retro Fit Series
lights will work reliably year after year.
High-intensity LEDs provide brighter illumination than 100 watt halogen globe
Ceramic Light Engine technology delivers maximum brightness while consuming less than 12watts of energy
an 88% energy saving compared to halogen light.
PAL-2R LED UNDERWATER LIGHT
The unique extraction system featured in the PAL-2R allows the light fitting to be removed from the pool with no tools.
For complete order details on the PAL-2R and PAL underwater light accessories available, click here.
Installation & Maintenance Instructions on the PAL-2R Unique Underwater Light.
Installation Instructions for PAL-2R Retractable Fitting in Fibreglass Pool's/Spa's and above Ground Pools
Locate the position for mounting the PAL-2R fitting at the centre of one end of the pool or the centre of both ends if required. If the pool is an irregular shape the fitting should be located in a position to obtain the best light spread in the pool. The fitting should be placed 300mm below the water level or 450mm below the top of the pool to enable the retractable part of the fitting to be taken out of the pool if the lamp in the PAL has to be replaced.
Drill a 60mm mounting hole (60mm to 65mm) at the selected location. After the hole is cut out, clean the area around the hole to remove rough spots and dust.
Fit the PAL fitting in the hole ensuring the rubber seal is fitted at the between the back of fitting and the pool/spa wall as shown in the diagram. Place a bead of silicon between the nut and the wall then tighten up the nut firmly.
The PAL Transformer is IP64 and can be mounted in the pool zone. Find a suitable position to mount the transformer ensuring it is a minimum of 1.2m above the maximum water level and the transformer must be installed to comply with AS3000.