Poolsavers Thermal Cover is the latest concept in thermal pool covers, suitable for both commercial and domestic pools. Designed and manufactured in Australia. Our thermal cover incorporates materials that are tough, durable and able to withstand the harsh chlorine environment and adverse weather conditions.
Reduction in heating costs.
When heated pools are left uncovered, the water temperature can drop by as much as 6°C overnight. User experience indicates that our thermal cover reduces this temperature drop to approximately 1°C.
Heating costs are greatly reduced. For large commercial pools, the savings are substantially larger, providing an excellent return on investment.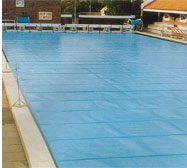 Reduction in maintenance & chemical costs
Poolsavers Thermal Cover virtually eliminates water evaporation, the major cause of water and chemical waste. This provides significant cost saving in these areas.
Easy installation & removal
Poolsavers Thermal Blanket Cover is lightweight, flexible and can be made to fit any pool size and shape. With the aid of a Maxi Roller the pool can be covered or uncovered in minutes